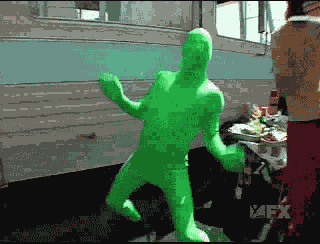 I'm sorry, sir, but your 1/48th Irish-ness does NOT make me want to kiss you.
I hate to sound like Debbie O'Downer but sometimes I think
St. Paddy's day
celebrators can take the festivities a little too far. The dressing in green is legit (especially considering the fact that you can potentially get some pretty sweet deals on drinks if you're decked out in green). I do enjoy and am thoroughly entertained by the fact that some go a little crazy overboard with this (I'm talking full-on green Guido velour tracksuit complete with beads and head wear - hilarious). My main issue here, though, is
how
do all these people get out of
work
? It felt like
everyone
was out today, clad in green and drunk as hell! I was stuck inside at a desk while green groups paraded the streets of Manhattan, chanting incoherent nothings for the sake of making noise. It sounded oh-so-fun! Unfortunately, I did see a couple overly-inebriated St. Patrick's day enthusiasts regurgitating green beer a little too early for my personal well-being (which is too early all the time, really). However, apart from a couple buffoons who decided to offer something involving good luck and a metaphorical shamrock, it seems everyone was enjoying themselves (and the beautiful weather we've been having (finally!)).
Here are a few images that make me green with envy! (I just had to do it).
Stay safe, drink responsibly and enjoy!